Well, here we are!  It's the beginning of kindergarten and the fun has begun!  Not all of the readers of my blog are teachers, but I thought you might like a classroom tour anyway.  The classroom at my current school is significantly smaller than the classroom in my previous building, so I had to get rid of a lot of my things.  Even with my purging, it still looks a bit too packed in here for my taste.  I'll be working on that this year.
One change I'm making to my classroom is the addition of some flexible seating options.  I don't have tables and chairs for everyone.  Some kids may choose to sit on the floor with a clipboard or find a pillow to sit on.  In the next few weeks, I'll be introducing the WittFitt exercise balls that the PTA purchased for my classroom.  I can hardly wait!  I will remove a few more chairs and have the balls as a seating option.  The chairs are actually pretty cool.  They are brand new and they kind of rock, but they are designed so that they can't tip over.  In addition, a parent ordered two Hokki stools from WittFitt that will be coming soon.  They are stools designed to wobble a bit.  I'm hoping to provide enough options that kids will find something that suits them and meets their need to keep moving.
Here's a view from the other side of the room.  I have a lot of blank spaces in the room, just waiting for photos of kids and a few pieces of artwork.  I use the clipboards on the wall as a space to document student learning.  I print large photos of the kids and then they share their thinking or observations, which I type up and add to the clipboard display.  I change these out each month.  I have been really inspired by the documentation in Reggio Emilia and Reggio Inspired schools.  This is a small piece of Reggio Inspired documentation in my own classroom.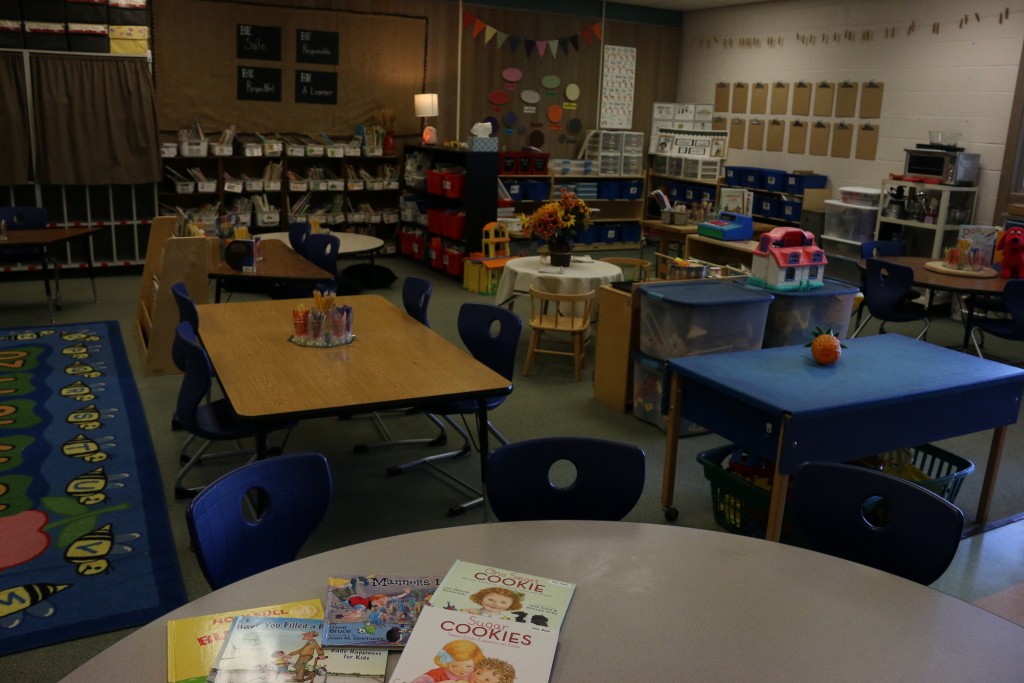 I have always loved the use of reflective and transparent materials in Reggio Inspired classrooms.  My crayon and pencil containers are jars, which have been glued down to mirrors.  I have found that Gorilla Glue works best to make these stick.  The idea of being constantly transparent and reflective is embedded into Reggio Inspired schools.  The materials that are used simply echo these ideas.  It's only one small piece, but there will be more to come!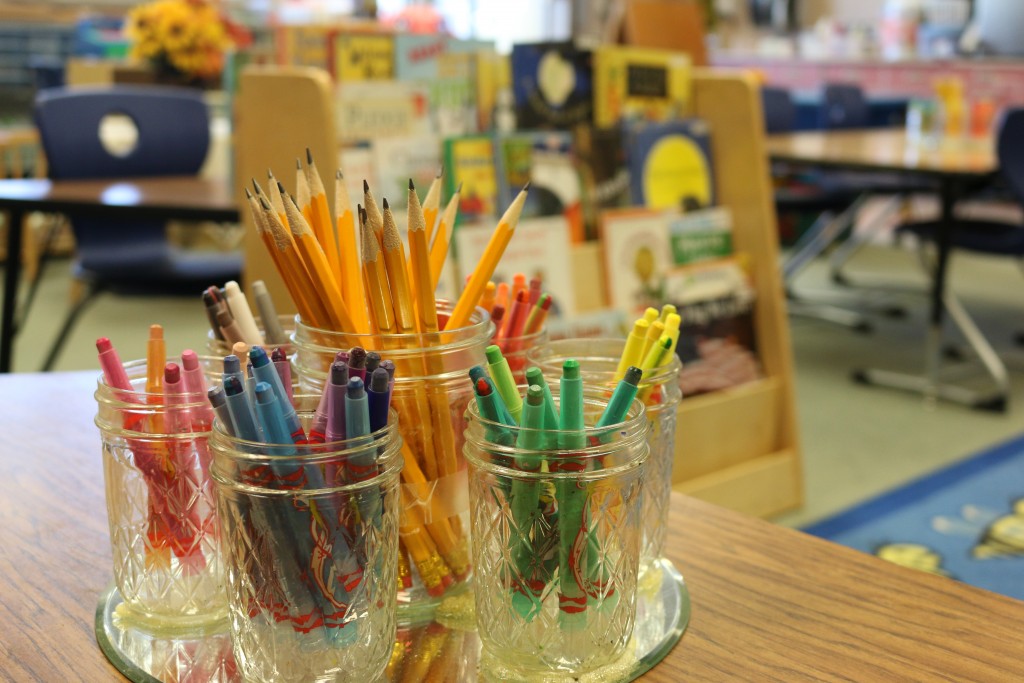 I had great plans to do a bunch of sewing over the summer, which didn't get done.  At the last minute, just before heading out on another vacation, I begged my mom to do my work for me while I was off playing.  She's fabulous and totally rocked the sewing projects.  I now have newly recovered pillows, curtains with adorable trim, and the cutest linens EVER for my home center.  Thanks mom!  The kids love grabbing a pillow and a clip board and finding a place to work in the room.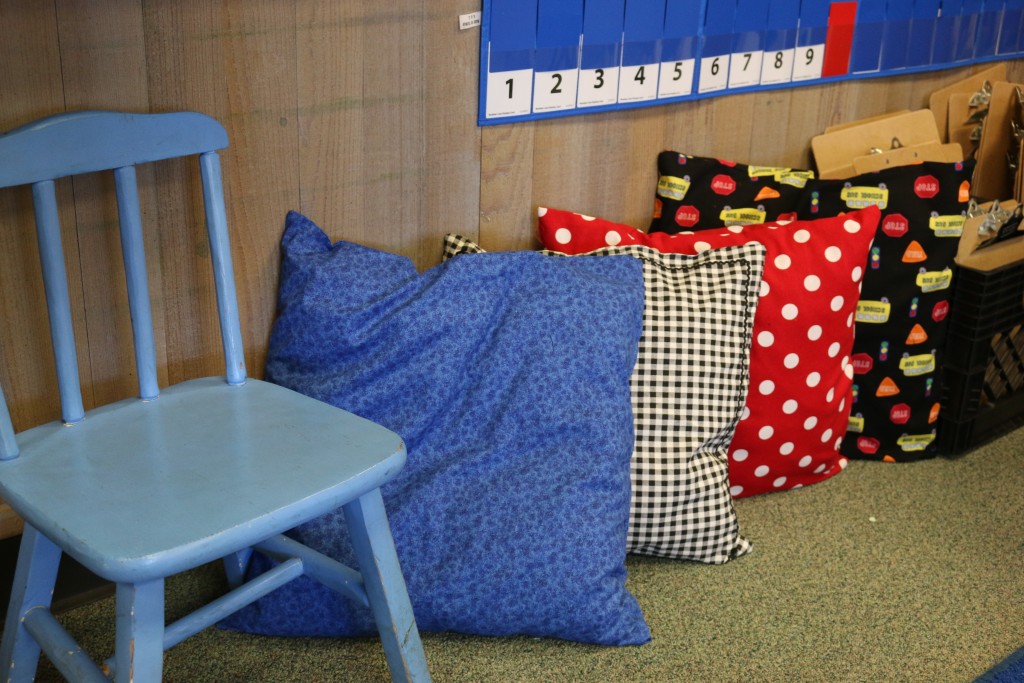 So, the room is set, the kids are here, and we're ready to GET MESSY!  I always say that I will happily do the messy projects, that parents dread doing at home, in our classroom.  If you can't get messy in a kindergarten classroom, then where can you get messy?  We've already used finger paint to paint our coconut trees… chicka, chicka, boom boom!  We'll add our foam/sticker letters soon.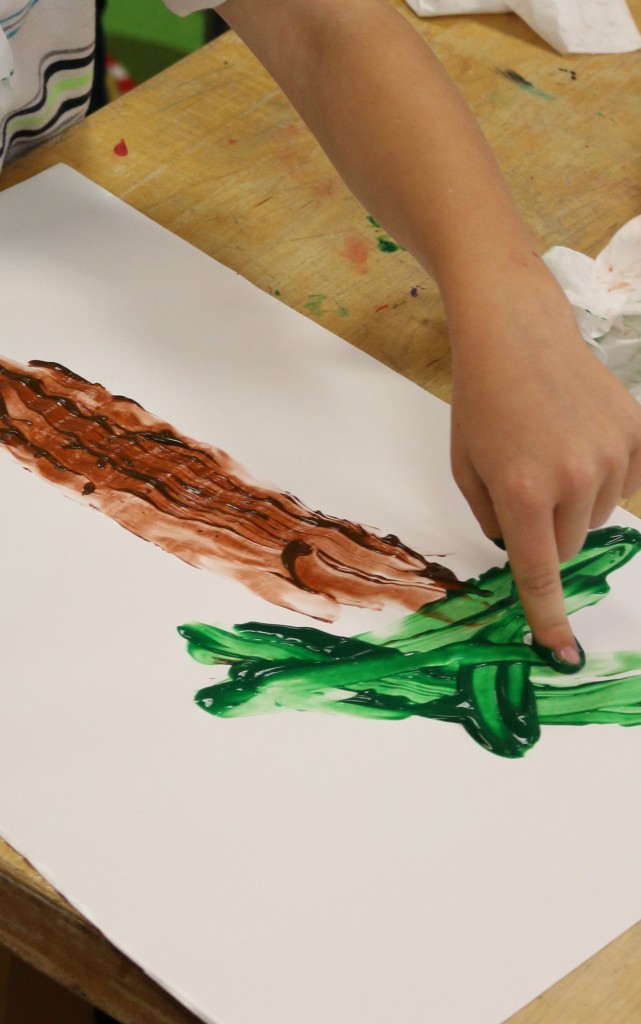 Kindergarten should be the happiest place on Earth, right next to Disneyland.  I hope my classroom feels like a happy place to these sweet kids.
Happy learning!